As an advertising firm, we are incredibly excited to be a part of the industry during its growth and expansion. The digital advertising technology is truly booming. Not only is digital advertising taking over a bigger piece of overall advertising spend, but the new technologies within digital advertising are also growing in popularity, as demonstrated by increases in native, video and programmatic spend. Next on the horizon? The continued growth of Audio and Connected TV (CTV) advertising opportunities as the numbers grow for users on at least one CTV platform, such as Roku, Google Chromecast and Amazon FireTV, and Audio platforms, including Spotify and AdsWizz. Of course, this won't overshadow the increase in targeting for the on-the-go shopper with a boost in mobile advertising compared to display.
The numbers do truly speak for themselves and, based on trends predicted, will only increase the power of digital advertising and the various channel opportunities for advertisers. If you are a numbers person, this is the proof you've probably been looking for if you've been hesitant to jump on the digital advertising train. We promise you jumping on the train will lead to a great ride and the views will be filled with new, interested shoppers.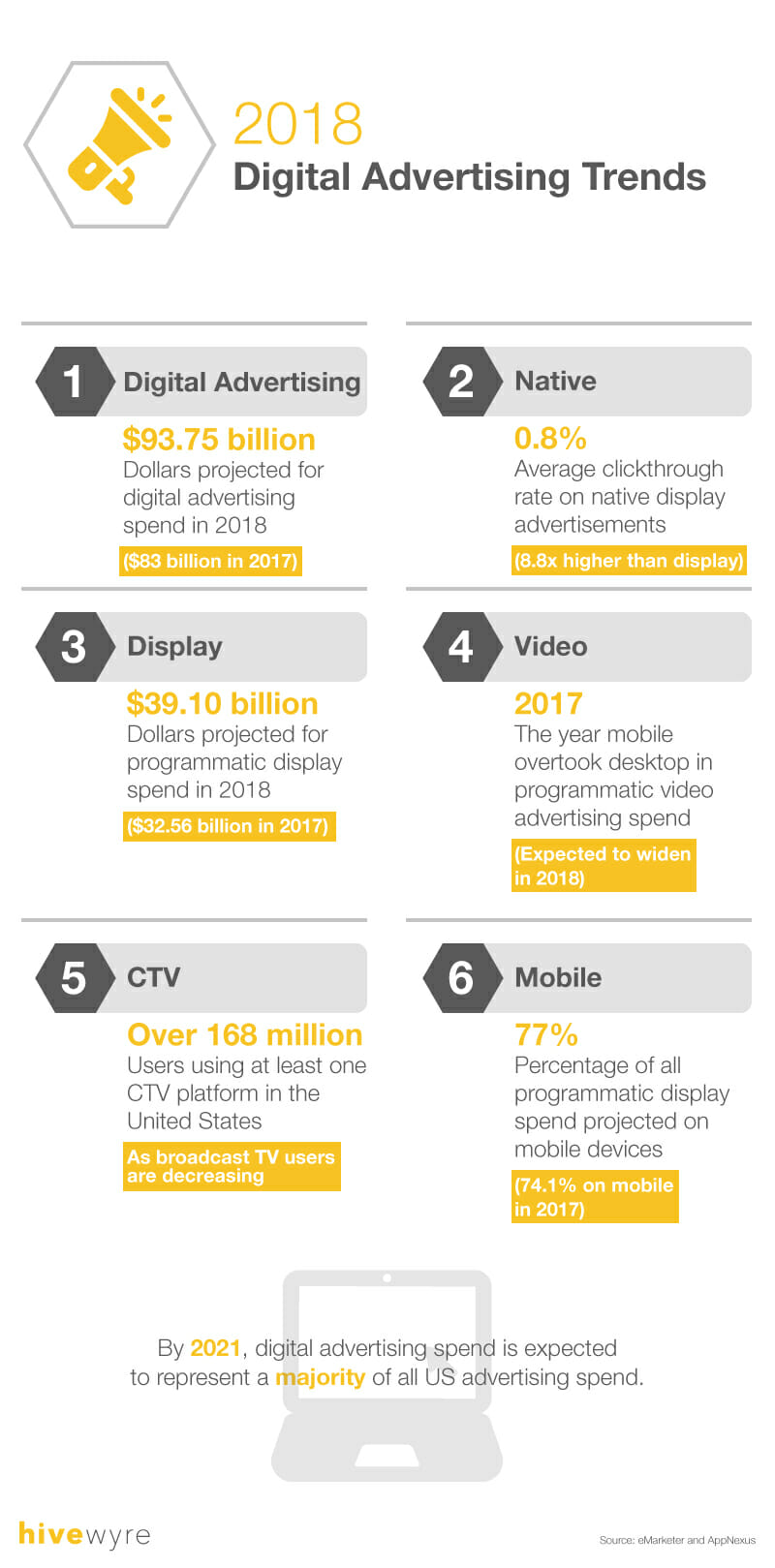 Still not completely convinced? That's ok. We understand. It only means the next step is jumping on the phone with our team. We know we can be pretty persuasive, but that's not a bad thing when the numbers back up our pitch. We are just one email or call away. What are you waiting for?
About Hivewyre:
Hivewyre is a forward-thinking programmatic advertising company. Their private data cooperative allows advertisers to share first-party audience data and build targeted campaigns for prospecting new customers based on their competitors' unconverted shoppers. Hivewyre advertisers have access to fresh, exclusive data that will never be sold to a third party. With over 500 retailers and over 100 million monthly in-market shoppers in our co-op, our distinct advertising strategy allows you to combat rising search engine PPC & PLA costs and the ever-expanding online marketplace growth. In addition to access to the exclusive data, co-op members benefit from full-service account management and detailed reporting of the return from advertising spend. To learn more about Hivewyre, visit www.hivewyre.com.