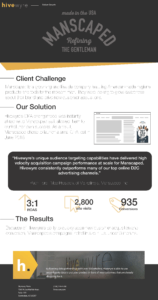 "Hivewyre's unique audience targeting capabilities have delivered high-velocity acquisition campaign performance at scale for Manscaped. Hivewyre consistently outperforms many of our top online D2C advertising channels." -Ryan Fiore- Vice President of Marketing at Manscaped, Inc. 
Client Challenge
Manscaped is a grooming and lifestyle company featuring American-made hygiene products and tools for the modern man. They were looking to grow awareness about their brand and drive new customer acquisitions.
Our Solution
Hivewyre's CPA pricing model was instantly attractive to Manscaped as it allowed them to control their own success. As a result, Manscaped chose to launch a small CPA test in June 2018.
The Results
Because of Hivewyre's ability to quickly scale new customer acquisition and conversion, Manscaped's campaigns tripled in size in just under 3 months. To view the whole case study, click here: manscapedsuccessstory
About Hivewyre:
Hivewyre is a forward-thinking programmatic advertising company. Their private data cooperative allows advertisers to share first-party audience data and build targeted campaigns for prospecting new customers based on their competitors' unconverted shoppers. Hivewyre advertisers have access to fresh, exclusive data that will never be sold to a third party. With over 500 retailers and over 100 million monthly in-market shoppers in our co-op, our distinct advertising strategy allows you to combat rising search engine PPC & PLA costs and the ever-expanding online marketplace growth. In addition to access to the exclusive data, co-op members benefit from full-service account management and detailed reporting of the return from advertising spend. To learn more about Hivewyre, visit www.hivewyre.com.